Take a look at our favorite attractions for families in Houston metro.
There's a saying that goes, "I may not have been born in Texas, but I got here as fast as I could." In fact, you might see it on the bumper of a pick-up truck or two during your next visit. For those of us with families, this saying couldn't ring more true about the city of Houston. The Bayou City is the fourth largest city in the country, and sprawls south to the Galveston Bay where you'll find NASA's Mission Control Center. Downtown, you'll find thriving theater and museum districts, lush parks and a city skyline to rival any of the greats. Whether you're a local hoping to explore with fresh eyes, or considering a Texas destination for your next vacation, here are 15 attractions that make Houston so exciting for families.
#1- Children's Museum of Houston (1500 Binz Street, Houston, TX)
One of the best parts about the Children's Museum of Houston is that your family can grow into it. With each passing year, different exhibits appeal to kids, and you discover new aspects of this 90,000-square-foot museum. Families start at the Tot Spot, a space that features toys and imagination builders perfect for the under three set. As kids get older, venture to Kidtropolis where they can pretend to be chefs, vets, make trips to the bank or visit a grocery store. School-aged kids are consistently wowed at the How Does It Work? area full of science demonstrations, and everyone has fun getting soaked outside at FlowWorks. The calendar is full of special events, too. Never leave your visit without checking out the baby chicks, and partaking in some DIY face painting action!
Tip: Experience the museum on a smaller scale by visiting the Fort Bend Children's Discovery Center in Sugar Land. It's a project of the CMH, but is much smaller, and may be more manageable for families with really little ones!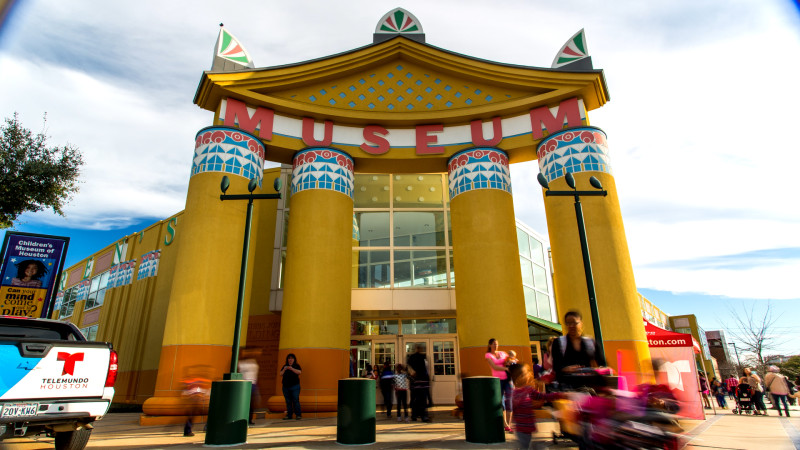 #2 – Discovery Green (1500 McKinney Street, Houston, TX)
Open since 2008, the Discovery Green is a beautiful urban green space in downtown Houston (so special that we have a whole guide on it). Here, you'll find the John P. McGovern playground, the Gateway Fountain splash pad and a Mist Tree, which have saved many families on hot Houston days. There are tons of free, special events from fitness classes to Toddler Tuesdays with story times and special character visits. Past family fun has included a meet and greet with Elsa and Anna, a foam party and a slew of kindie rock concerts. No matter when you stop by, you're likely to catch something special.
Tip: Discovery Green's public art, like the Synchronicity Of Color art box walls, make a perfect back drop for your next great Instagram.
#3 – Houston Museum of Natural Science (5555 Hermann Park Drive, Houston, TX)
Not only does it have world-class exhibits, the Houston Museum of Natural Science staff is also extremely knowledgeable and welcoming to children. With 60 major skeleton mounts, The Morian Hall of Paleontology is enough to impress any dino loving kid. But don't skip the Cockrell Butterfly Center either. There are so many permanent exhibits to choose from, but no visit is complete until you see the mummies in the Hall of Ancient Egypt. HMNS is also fantastic at bringing in traveling exhibitions from the gems of Bulgari and the Magna Carta to the secrets of the Samurai.
Tip: The HMNS is one of the only museums open on Mondays, and you can visit them as early at 9am. If it's a cooler day, it is worthwhile to pack a lunch and head across the street to picnic in the McGovern Centennial Gardens.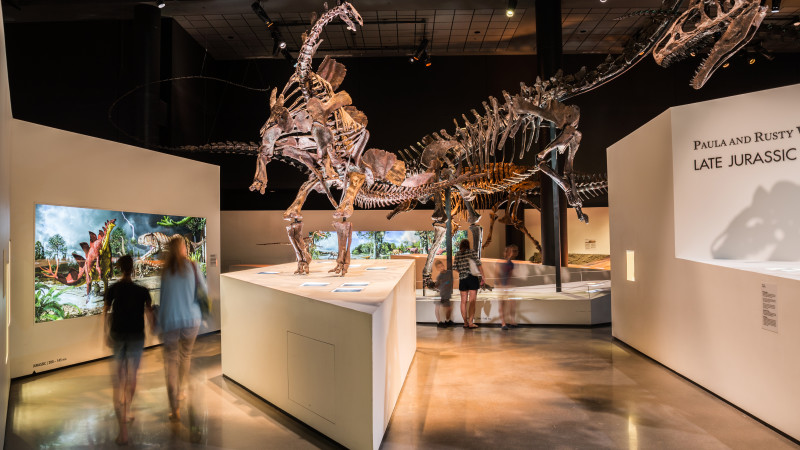 #4 – Hermann Park (6001 Fannin Street, Houston, TX)
Hermann Park's proximity to the zoo and Miller Outdoor Theater make it easy to tack on to another outing in the Museum District, but it is worth visiting all on its own. Start your visit with a ride on the park's train, then enjoy a picnic in the Japanese Gardens and let your littles run wild at Buddy Carruth Playground for All Children. If you have stroller age children, it's a great spot to meet up with friends for a walk along the trails. For older kids, go ahead and rent pedal boats and explore McGovern Lake!
Tip: If you head out early in the morning, bring stale bread to feed the ducks and birds before going to the Houston Zoo. Getting there a bit earlier allows from prime parking, and you'll get to leave the zoo before it gets too busy (and hot).
#5 – Miller Outdoor Theater (6000 Hermann Park Drive, Houston, TX)
This free, outdoor stage in the middle of Hermann Park offers a wide selection of cultural offerings from plays and live music to movies and classical ballets. And it's a family favorite for seeing a kid-friendly performance. Grab a spot on the lawn and kids can roam around when they get antsy. (This makes is a really popular spot to take your little one for their first live performance!) Be sure to check the calendar for events and seasonal shows; much of the kids programming takes place in the summertime.
Tip: If you are going to a daytime show, arrive early to grab a seat. During the summer, many camps bring a number of kids and it can fill up quickly.