Taion Sells couldn't ever remember going to a football practice quite so early. Mo Porter appreciated the slight morning breeze as opposed to the sweltering afternoon heat.
The buzz has arrived in Waco ahead of what is sure to be an exciting and eventful season currently full of question marks for both players and staff.
Yes, Baylor football is back – beginning at Zero Dark Thirty on Thursday. The Bears kicked off fall camp with a practice that began shortly after 6 a.m. – in July, no less, thanks to the NCAA's new restrictions preventing two-a-day workouts.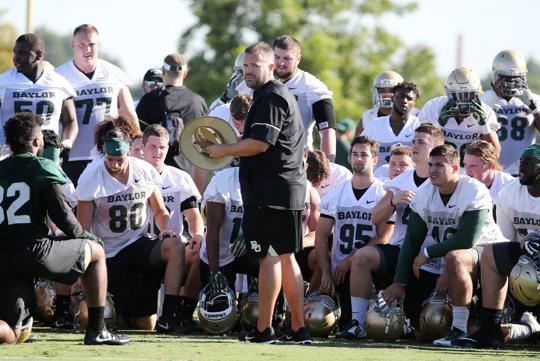 "That was the first time I've ever been at practice that early in the morning," said Sells, a senior safety. "But it was great. The energy was high, energy was great."
Added starting offensive tackle Porter: "When you're 300-plus pounds, that heat takes a toll on you. So coming out here early in the morning, nice little breeze outside, no sun out, it's good."
It's a new era at Baylor, with Matt Rhule's season opener as head coach just 37 days away. Given the changes that the new coaching staff have implemented, Rhule figures the more time he can spend with his players in fall camp, the better.
He knows guys aren't going to learn the entire playbook overnight. But he wants to see punctuality. He wants to see effort – the "things they can control." That is what Baylor Football is all about this season.
"So, just do everything they're asked to do," Rhule said. "I want to see them bring all the technique work we've done all summer and spring, that they've done on their own. I want to see it applied on the field. And the big thing to me is just making sure everyone knows what they're doing. We've got a bunch of freshmen out there. Are they studying their playbook at night or are they playing video games?"
Even with the earlier start, time is of the essence for the Bears. Rhule and his assistants were able to introduce the new offensive and defensive schemes to the veterans and early enrollees in the spring. For the true freshmen, it's all fresh and new.
One stark contrast from the previous regime is the introduction of a hard-copy, paper playbook. Under Art Briles, Baylor utilized video study, hand signals and practice repetition to learn plays and alignments. Rhule and company are taking a more traditional approach.
"It's been a lot different. With the old coaching staff it was a little packet," Sells said. "The calls were based off formations and stuff like that. Now we've got to study a whole playbook. The playbook is big, and we're learning at a fast pace. We'll be ready Sept. 2 (against Liberty)."
Baylor will practice in shorts and helmets for four days until Tuesday, when they'll break out the pads. In these early stages, the coaches are stressing technique and fundamentals.
And if a player shows a lapse in that regard, the coaches will hold them accountable, said Porter.
"They are big detail-oriented," Porter said. "Coach (Jeff) Nixon earlier got on Trestan (Ebner), because he didn't tuck the ball. He switched hands as he was running. He made him do 10 push-ups, because we talked in the meeting yesterday, don't switch hands and keep the ball high and tight. Just run straight with it, don't ever switch hands.
"He did it, so that kind of (ticked) Coach Nixon off. So, he made him do push-ups. That's how I know they love technique."
Junior running back Terence Williams – who accumulated a team-best 1,048 yards and 11 rushing touchdowns in 2016 – participated in Thursday's opening practice, wearing a red non-contact jersey. Williams is expected to be out until at least the start of conference play with a shoulder injury that Rhule has termed "significant."
Baylor certainly can't afford any more injuries or defections on the offensive line. That unit was hit hard by graduation losses, but also some unexpected departures. Center Tanner Thrift and tackle Josh Pelzel were projected to be starters this fall, but both retired over the off-season due to recurring injury problems.
So to help fill the need, former tight end Sam Tecklenburg has moved to center while Josh Malin has also joined the offensive line ranks. It's the second position switch for Malin, who came to Baylor as a defensive lineman before moving to tight end.
Asked how much he likes his team's depth, Rhule said, "At certain positions, I love it. At certain positions, I have a hard time sleeping at night."
But Rhule quickly added that it doesn't help to stress or worry about such matters. It's a message that he's trying to pass along to his players. He doesn't want them putting too much pressure on themselves, to get too worried about playing time or starting positions.
Again, it comes back to focusing on what they can control the most.
"It's like the hardest things in my life – my son was born premature, and you're sitting there, and you're like, 'Is he going to survive? Is my wife going to survive?' At those times in my life, I just learned, you know what, I can control what I can control and pray about the rest," Rhule said. "What I can control, though, is my effort, my preparation as a head coach, what I demand of the players. Their effort, their preparation, they can control that."
Bear Facts
Senior nickelback Travon Blanchard remains listed on the Baylor roster, but is suspended from the program after a judge issued a protective order against him following allegations of domestic abuse by a woman he had previously dated. Nothing has changed in Blanchard's status, Rhule said on Thursday. "Pending that campus inquiry and legal proceeding, until there's some sort of resolution on both of those, then he'll remain suspended," Rhule said. … No Baylor player took the field on Thursday with a jersey number in the single digits. That's because they'll have to earn such an honor, as Rhule will let players vote on who should receive those numbers later in camp. … Rhule said he likes his offensive linemen in the 290-to-310-pound range for the most part. "Except for (Blake) Blackmar," he said. "God made him 330. There's no changing him." … Baylor will be back on the practice field on Friday and Saturday before taking a day off on Sunday.